Lake Tahoe Snow Report - Jan. 25, 2015
Hello Skiers and Riders! It's another "can you believe how nice it is?" day. Get out there while spring is the thing, and get set for some changes (including a chance of a few flakes) in the days ahead..
 Conditions & Operations Highlights: Fast and firm conditions early, softening up as the sun hits. East winds will keep it cool on the ridges.
Weather Outlook:  Sunny skies and possible record temps today. Changes ahead. Check the Tahoetopia.com live webcams and daily Lake Tahoe weather update for radar, forecasts and a look at what's happening.
Get your 'springuary' groove on today! And remember, any day on the mountain is a good day.
- Eric T.
Are You The Latest Lake Tahoe License Plates "Plate Spotter" Winner?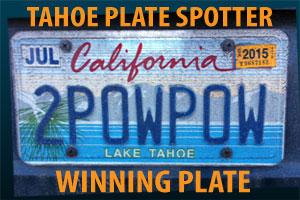 If this is your license plate - YOU'VE BEEN SPOTTED! You're the winner of two lift tickets to a participating Lake Tahoe resort. Claim your tickets at www.TahoePlates.org. The Plate Spotter is out there! Next winning plate drawing is on Jan 22th!