September 29, 2018 to September 30, 2018
For the fourth year in a row, the Reebok Spartan Race World Championship will take place right here in Squaw Valley. The world's best athletes will congregate on the course with a shared goal: to be the Spartan Race World Champion.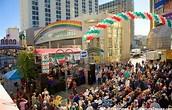 October 6, 2018 to October 7, 2018
Held annually over Columbus Day weekend, the outdoor festival is a celebration of Italian culture and traditions. Downtown Reno transforms into Little Italy with free live entertainment, a sauce cooking contest and of course, pasta – lots of pasta.