Enjoy Food, Wine & Flair At Annual Booster Benefit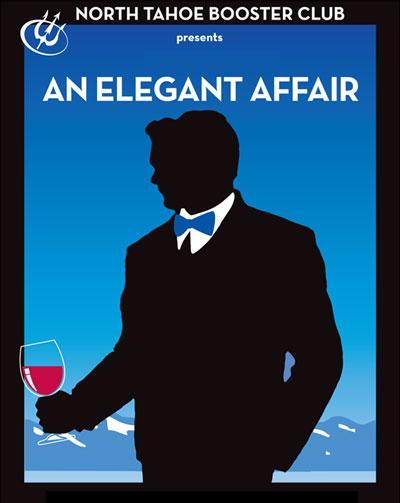 Tahoe area wine, food lovers - mark your calendars for the Annual 'An Elegant Affair', an annual food and wine tasting benefit event held at the Boatworks Mall in Tahoe City on Friday, November 17th, 2017 featuring numerous wineries, breweries, and food and tasty treats from the area's top restaurants.
This annual event marks the beginning of winter season and is a great chance to get dressed up (black tie is optional) and enjoy the wintertime ambiance of beautiful downtown Tahoe City, while providing critical funding and support for sports programs at North Tahoe High School and Middle School.
Presented by the North Tahoe Booster Club, this special evening of fun, friends, and of course wine and food, raises money for a very important cause in the Tahoe community, school athletic programs. Over the years, the North Tahoe Booster Club's efforts have generated hundreds of thousands of dollars  to support and develop programs for boys and girls including football, basketball, soccer, softball, nordic and alpine skiing, track and field, lacrosse, and many more. Again this year, with the continuing cuts in school funding and resources, programs are in even more need of support.
These programs have resulted in numerous accomplishments by local students including several state track medalists as well as state rankings in boys and girls golf, volleyball, cross country running, alpine and nordic skiing. More importantly, these programs help local students excel in school, build confidence and become valuable contributors to their community.
The Elegant Affair is held from 6:30 - 9:00 PM at the Boatworks Mall, an indoor lakeside shopping mall in Tahoe City where guests will enjoy great company and conversation and phenomenal views as they sample delicious beer and wine and appetizers and desserts from numerous Lake Tahoe and Truckee restaurants.
Don't miss this great opportunity to help the North Lake Tahoe community and enjoy a memorable evening with friends.
Tickets are $55/person or $90/couple and available in advance with cash or check at Hacienda de Lago, Rosie's Cafe or The Store...Copies & More. Tickets on the day of the event are available from noon until 5 PM at the Boatworks Mall.
For more information and to purchase tickets online click here.