Annual Ta-Hoe Nalu Festival Returns Aug. 12-13
North Lake Tahoe, world renowned as a flat-water paddling mecca, will share some 'High Sierra Aloha' at the annual Ta-Hoe Nalu Paddle Festival August 12-13, 2017 in Kings Beach. The festival, now in it's 11th year, continues to be a cornerstone event for growing paddle sports community.
Ta-Hoe Nalu celebrates the 'aloha spirit' and the excitement of a growing community of stand up paddle boarding (SUP) around the world and in Lake Tahoe. Known as one of the best 'flat-water' paddle  locations in the world, Lake Tahoehas become a haven for the continually expanding paddleboard community. The Ta-Hoe Nalu Festival has grown from a grass-roots start to a multi-event festival, complete with a variety of competitions, demos and clinics, board and accessory vendors, entertainment, great food, and thousands of spectators and participants.
The idea for the Ta-Hoe Nalu, and laregly for paddleboarding at Lake Tahoe, was spawned in 2005, when festival founder Ernie Brassard and his good friend Rick Thomas, from San Diego, tried paddling Rick's Surf SUP on Lake Tahoe. They immediately they realized how cool it was to paddle Tahoe's clear and calm water and explore the lake's extensive shoreline. Tahoe's amazing clarity and beauty made the experience even more impressive.
"We thought back then that it would be fun to get some of our fiends to bring their big boards to Tahoe and do a paddle," says Brassard.
After mulling the idea around for a while, in 2007, Brassard met with Phil Segal, founder of Tahoe Paddle and Oar in Kings Beach, who was adding SUP's to his retail store and had begun turning people on to the sport. After discussing the idea with Chris Thibaut, owner of Jake's on the Lake restaurant in Tahoe City and friends Chris Carnevalle and Jay Valois who had both started paddling that year, Brassard decided to look into putting on a race.
The first Ta-Hoe Nalu race was took place on August 8, 2007. It was a seven-mile paddle from Jake's on the Lake in Tahoe City to Captain Jon's restaurant in Tahoe Vista. While Brassard and Segal drummed up interest in Tahoe, Rick and Bob got the word out in Southern California and Santa Cruz. On Friday August 7, 2007, a pre-race party was hosted by Jake's on the Lake and by Saturday morning, thirty-four folks from San Diego, Santa Cruz and Baja, and other paddlers from around Lake Tahoe competed in what would become the first ever SUP race. Dave King, of Santa Cruz and Kim Wittman from Cabo San Lucas became the first ever SUP champions.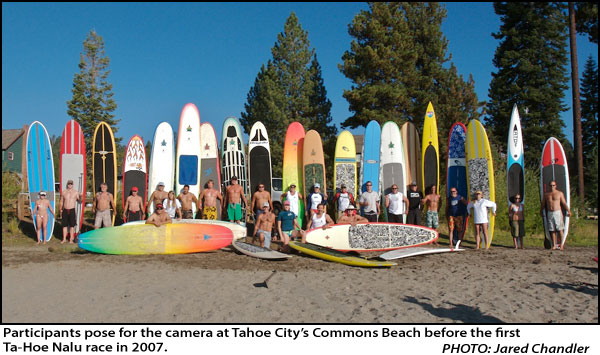 There are now thousands of paddle-focused races and events across the nation and the world each year. This year's Ta‐Hoe Nalu is expected to again attract thousands of spectators and competitors from all over the the globe. The two-day festival includes racing for all ages and skill levels, free demos and clinics for all, entertainment, exceptional food, and most of all, a vibrant community of enthusiasts - pros and amateur - that have discovered the fun and excitement of paddle sports.
New for 2017, the Ta-Hoe Nalu will include a pre-race party on Friday night at Waterman's Landing, the brand-new 'First Stroke' non-competitive guided paddle tour, and inflatable SUP Polo throughout the weekend.
Complete event schedule and registration is available online at www.tahoenalu.com.