Tahoe Nugget #188: Swimming Lake Tahoe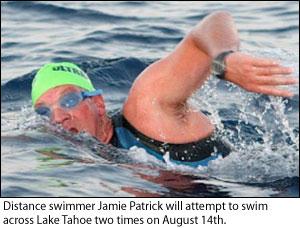 Do you think that you're a good swimmer? How about taking on Lake Tahoe for a challenge?  Suspended high in the Sierra Nevada, Tahoe is an aquatic jewel
22 miles long and 12 miles wide.

Tahoe is beautiful alright, but the cold water, choppy surface, and high elevation also make it one of the most challenging swimming holes around. Imagine swimming across the lake not once, not twice, but three times without stopping. On August 14, 2010, endurance swimmer Jamie Patrick is going to attempt the estimated 44 mile Tahoe Double. If you're going to be at Tahoe at that time, Jake's on the Lake in Tahoe City will be the event's headquarters beginning at 11 a.m.

Early tourists at Tahoe believed that the clear, cold water would not support a human body. That erroneous perception came from the fact that the bodies of drowning victims were rarely recovered. Water temperatures near freezing prevent tissue decomposition and the buildup of organic gases. Bodies that sink into the dark depths of Tahoe rarely float back to the surface.

In the summer of 1931, the Tahoe Tavern Hotel near Tahoe City put up a $700 cash prize for the first person to swim across the lake. On August 24, Mrs. Myrtle Huddleston, a world-class swimmer and mother of a 15-year-old boy, took on the challenge. After coating her skin with grease to ward off the cold water temperatures, she started her swim at Deadman's Point, Nevada, on Tahoe's east shore. Tahoe City was about 13 miles away.
The lake was calm for the first few hours, but during the afternoon, the southwest wind picked up. The crewmen in the three escort boats positioned their crafts to block the waves, but Myrtle was still blown seven miles off course. Hour after hour she battled the brutally cold waves that threatened to break her will. 

Sometime around midnight, Myrtle increased her stroke, pulled away from her rowboat escort, and disappeared into the darkness. Myrtle had no idea that she was swimming alone in water 1,000 feet deep. Fortunately another boat found her just before dawn, feeling ill and discouraged. She had been swimming for more than twenty hours. 

The high altitude was really taking its toll and the detour had added miles to her grueling swim. She was ready to give up. At this point, her son Everett, sitting in a rowboat, called out, "Mother, hold fast. We are only two miles from shore." His encouragement renewed her vigor and soon Myrtle could hear the cheers and laughter emanating from the large crowd assembled on the Tahoe Tavern pier.

At 7.a.m., Mrs. Huddleston emerged from the icy water. She laughed when she saw a medical stretcher waiting on the beach for her. "What's the bier for?" she asked calmly as she walked into the hotel to claim her $700 in prize money.

Myrtle's 20-mile swim in Lake Tahoe had taken 22 hours and 53 minutes. She lost ten pounds in the ordeal, but later said that despite the hardships of cold water, altitude and wind, she felt no ill effects from the swim. Myrtle Huddleston's impressive feat stood unbroken for 21 years.

The first man to successfully cross the width of Lake Tahoe was William Long, a 27-year-old long distance swimmer from Van Nuys, California, who pulled it off on August 16, 1952. Strong southwest winds carried him off course, too, but he managed to stroke the 17-mile swim in 12 hours.

On the morning of August 28, 1955, two men attempted to swim the length of the lake. Fred Rogers, a bartender from San Francisco, was joined by 39-year-old Jose Cortinas, a famous Cuban-born long-distance swimmer. Both men were coated with lanolin before they entered the frigid water for the contest in which they raced neck and neck for 18 miles. To keep up their strength, they ate candy bars and drank orange juice.

Rogers pulled ahead of Cortinas in the last few miles and despite severe leg cramps, completed the "impossible" swim in 19 hours, 6 minutes, and 6 seconds. Considering the waves and current, it was estimated that Rogers swam more than 29 miles. He did not collect the $2,000 prize put up by the Lake Tahoe Swimming Association, however, since he had not paid the $300 entry fee.

On July 29, 1962, 16-year-old Erline Christopherson of Lodi, California, became the first female to swim the axis of the lake. After failing on two previous attempts, the undaunted teenager completed a seventeen-mile swim from Baldwin Beach to Dollar Point, covering the distance in 13 hours and 17 minutes. 

Tahoe Nuggets are compiled and written by Mark McLaughlin, a local weather historian. More Nuggets can be found at www.thestormking.com.

For more information about Jamie Patrick's Tahoe Triple swim attempts, visit www.thetahoetriple.com.