Brews, Jazz & Funk Fest Returns to Palisades Tahoe
The Village at Palisades Tahoe will host the 17th Annual Brews, Jazz and Funk Fest this weekend, August 11 &12. Presented in partnership with FiftyFifty Brewing Co., the Brews, Jazz and Funk Fest welcomes all ages to enjoy a weekend filled with the sounds of New Orleans tunes against a picturesque mountain backdrop. Festival guests over the age of 21 can enjoy craft beers from over 35 different breweries throughout the weekend. All proceeds from Brews, Jazz and Funk Fest will benefit the Humane Society of Truckee-Tahoe, a long-time partner of The Village at Palisades Tahoe, dedicated to saving and improving the lives of pets through adoption, community spay/neuter and humane education programs. The event will take place on Saturday, August 11 and Sunday, August 12 from 2 p.m. to 8 p.m. and there is a $10 entry donation each day.
 
"The Brews, Jazz and Funk Fest is our most fun summer event in The Village and one of the Humane Society's most important fundraisers" said Caroline Ross, executive director for the Squaw Village Neighbourhood Company. "The entry fee and proceeds from beer sales benefit the Humane Society of Truckee-Tahoe. From the beginning, this event has been a fantastic value for Tahoe locals and visitors looking to enjoy live entertainment and craft beers during Tahoe's incredible summers."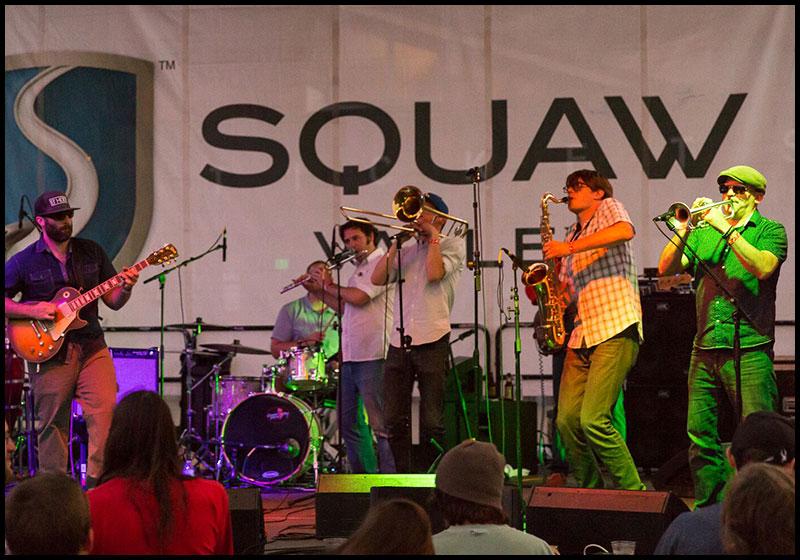 The Village at Palisades Tahoe welcomes various craft breweries including Truckee-based FiftyFifty, Hawaii-based Kona Brewing Co., Michigan-based Founders Brewing Company, Oregon-based Deschutes Brewery and Germany-based Bitburger Premium Pilsner. Additional California breweries include Bear Republic Brewing Co., Berryessa Brewing Co., Device Brewing Co., Drakes Brewing Co., Firestone Walker Brewing Co., Heretic Brewing Co., Knee Deep Brewing, Lagunitas Brewing Co., Pizza Port Brewing Co., Sierra Nevada Brewing Co., South Lake Brewing Company, Trumer and WILDCIDE Hard Cider will also be featured. Tickets for 16 ounce beers will be on sale for $5 each.
 
Tying this funky weekend together includes two bands that represent true New Orleans music. Dumpstaphunk will headline the festival on Saturday and Rebirth Brass Band will close out the festival Sunday evening. Live music will also be played by The Nth Power, Afrolicious, John Brothers Piano Co., Sam Ravenna Band and Jack Mosbacher Band on the 2nd stage both days.
 
2018 Brews, Jazz & Funk Fest Lineup:
 
Saturday, August 11
    •    Main Stage
    ◦    2:00 p.m.: John Brothers Piano Co.
    ◦    4:00 p.m.: The Nth Power
    ◦    6:00 p.m.: Dumpstaphunk
    •    First Street Stage
    ◦    3:00 p.m. and 5:00 p.m.: Jack Mosbacher Band
Sunday, August 12
    •    Main Stage
    ◦    2:00 p.m.: Sam Ravenna Band
    ◦    4:00 p.m.: Afrolicious
    ◦    6:00 p.m.: Rebirth Brass Band
    •    First Street Stage
    ◦    3:00 p.m. and 5:00 p.m.: Jack Mosbacher Band
In addition to the music festival, Palisades Tahoe has numerous activities and adventures for all ages throughout the summer.
Squaw Kids Adventure Camp
Squaw Kids Adventure Camp helps kids explore and discover the outdoors. Squaw Kids' fun, friendly and experienced counselors lead campers through activities like nature crafts, Aerial Tram rides, swimming, geocaching, scavenger hunts, yoga, biking, cooking class, and more. The Squaw Kids Adventure Camp is offered on Fridays, Saturdays, Sundays and Mondays, June 29 - September 3, 2018 from 9 a.m.-3 p.m. To book a session, click here.
 
Palisades Tahoe Aerial Tram Hours and High Camp Activities
Beginning June 15, the Aerial Tram at Palisades Tahoe will expand operating hours, open daily from 10am to 5pm. The Aerial Tram will be open daily from June 15-September 3 as well as Saturdays and Sundays September 8-9, September 15-16 and September 22-23, and Friday through Sunday September 28-30. Enjoy an aerial climb over 2,000 feet from the base of Palisades Tahoe to High Camp, located at 8,200 feet, with 360 degree views of Lake Tahoe's high alpine beauty. Daily activities at High Camp including roller skating, hiking trails, the Olympic Museum, disc golf, lawn games, and more. All High Camp activities will be open daily June 15 – September 3. Click here for Aerial Tram rates and details.
 
Bluesdays' Tuesday Lodging Special
Each Bluesdays Tuesday this summer, guests can book overnight lodging in the heart of Bluesdays action in The Village for $99 for a one bedroom suite, $199 for a two bedroom suite, and $299 for a three bedroom suite with stage views, pending availability. Guests will enjoy being steps away from the Blues Bar, food and drink specials, and the music. Click here for more information and to make a reservation.