Squaw & Alpine To Become One
No, Really, Honest. Following months of rumor and speculation, Palisades Tahoe and Alpine Meadows have now officially announced that they are, indeed, becoming one. Starting this winter, with both resorts under 'common ownership', skiers and riders will enjoy both mountains under one lift ticket and one season pass.

The rumors and hearsay that began last fall following KSL Resorts' purchase of Palisades Tahoe USA and continued throughout the past year, and right up to Monday night, as social media carried the story to another frenzy of speculation. However, this morning, via live satellite, the web, social media and beyond, it was all confirmed by Palisades Tahoe CEO, Andy Wirth and JMA Resorts' President Todd Chapman.

The following news release was made public this morning (Sept. 27, 2011)…

Palisades Tahoe and Alpine Meadows Announce the Combination of Two Legendary Mountain Destinations
Two of North America's renowned mountains join forces to provide enormous variety of terrain and adventure.
[Olympic Valley, CA and Alpine Meadows, CA] September 27, 2011—Palisades Tahoe and Alpine Meadows Ski Resort announced today that the two North Lake Tahoe ski resorts have agreed to combine operations under common ownership and offer season passes and lift tickets that will allow guests to enjoy skiing and riding on both mountains.  The transaction is expected to close prior to the commencement of the 2011-12 winter season.

Palisades Tahoe, known for its expansive, legendary terrain – 3,600 acres – and the host site of the 1960 Winter Olympics, opened for skiing over 60 years ago. Alpine Meadows opened in December, 1961 and quickly gained and maintained a reputation for its varied terrain, authentic friendliness, and family atmosphere. The combination of the two resorts promises to create a mountain experience like no other in California, with over 6,000 skiable acres of varied terrain spread across eight Sierra Nevada mountain peaks, which boasts some of North America's highest average annual snowfall, last winter exceeding 800 inches.  Located on the North Shore of Lake Tahoe, California, the two resorts are a short ten minute drive from each other.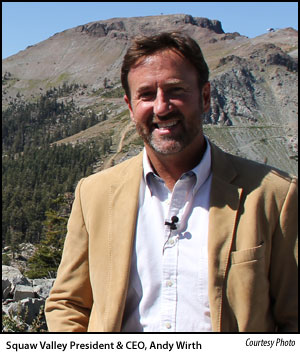 "Combining Alpine Meadows and Palisades Tahoe will provide our guests something truly remarkable – a mountain experience unmatched in California, inclusive of expansive and family friendly terrain," said Andy Wirth, president and CEO of Palisades Tahoe.  "In today's economic environment, skiers and snowboarders are looking for more – more terrain and value. The all new Tahoe Super Pass and Tahoe Super Six which allow guests, with one pass, access to both of these incredible mountains provides unmatched value," said Wirth.   Wirth will take the helm as the president and CEO of the new combined entity of Palisades Tahoe and Alpine Meadows.

"As a long-time skier with a family dedicated to Tahoe, I'm excited to bring these two remarkable resorts together and we agree that a key element of success is maintaining each resort's character," said Todd Chapman, president and CEO of JMA Ventures (JMA), owner of Alpine Meadows.  "While both resorts are unique, this partnership is a natural fit, as what unites our brands and the spirit of our mountains is our guests' desire for exploration and adventure."

The companies also announced an all new dual mountain season pass and six day card.  The all new Tahoe Super Pass will be available starting at $459 for adults, with the unrestricted adult pass available for $799, providing unlimited skiing and riding at both resorts for winter 2011-12. Also, the all new Tahoe Super Six is available for $399 for adults and provides six unrestricted days of skiing and riding for the 2011-12 season. Both the Tahoe Super Pass and the Tahoe Super Six are immediately available for sale and additional information can be found at www.squaw.com or by contacting the Palisades Tahoe Resort & Activity Sales Department at 1-800-403-0206. Both products will be available at these prices through November 30, 2011.

Palisades Tahoe and Alpine Meadows also offer significant added value for all of their existing passholders (Gold, Silver and Bronze passes at Squaw, and Unfiltered, Slightly Filtered and Filtered passes at Alpine Meadows) for winter 2011-12.  All of these passes previously purchased at Squaw or Alpine for winter 2011-12 will become valid for skiing and riding at both mountain resorts.  Respective day of week and date restrictions will apply for previously purchased season passes.

As part of the transaction, an investment affiliate of JMA Ventures (JMA), will convert its ownership of Alpine Meadows into partial ownership of the combined company.  KSL Capital Partners, LLC (KSL), the owner of Palisades Tahoe, will be the majority owner of the combined company.  Both owners have a deep commitment to the two resorts and to the Tahoe region.  KSL, as part of its acquisition of Palisades Tahoe, has earmarked $50 million in capital improvements to Palisades Tahoe over the next three to five years, many of which will be apparent this winter. Customers can also anticipate that Alpine Meadows will see a substantial investment in the guest experience. JMA will continue to independently own and operate Homewood Mountain Resort.
Situated less than ten minutes from one another, Palisades Tahoe and Alpine Meadows are ideally located in North Lake Tahoe, California, just off Interstate 80, 45 miles west of Reno, Nevada, and 200 miles northeast of San Francisco.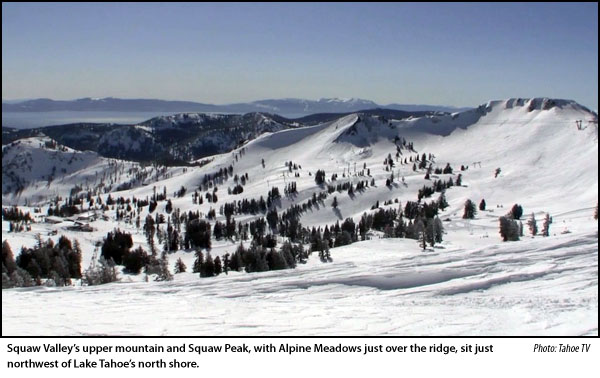 Auction of the first issued Tahoe Super Pass to Benefit the Humane Society of Tahoe Truckee
For fans of both Squaw and Alpine, being able to ski and ride both resorts on one pass is a dream come true – and someone will be lucky enough to purchase the very first combined season pass for the two resorts.

"The opportunity to have bragging rights to that first Alpine Meadows and Palisades Tahoe combined pass, Tahoe Super Pass number 00001, will be coveted and its value should benefit a local cause important to our guests and our staff," said Andy Wirth.

Squaw and Alpine will conduct an online auction on eBay for the first issued Tahoe Super Pass.  All proceeds raised from auctioning this first pass will benefit the Humane Society of Truckee Tahoe, an organization important to the guests and team members of both resorts.
For more details and updates, visit www.squaw.com or www.skialpine.com.