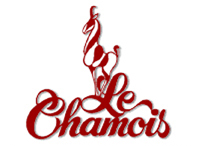 Looking southwest at Palisades Tahoe's KT-22 across the Le Chamois' Patio from the second floor of Le Chamois at the base of Palisades Tahoe.
This cam is sponsored by Le Chamois, a Palisades Tahoe original and age-old tradition, bringing good times, pizza, sandwiches, and more to Palisades Tahoe's core since the 70's.

Please note: The Chammy Cam is not operational during the summer/fall.