Kick Off Tahoe Summer at Opening Day On The Lake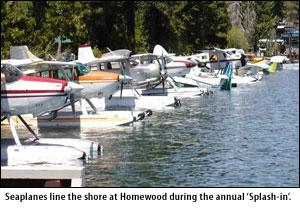 Summer officially kicks off in North Lake Tahoe Memorial Day Weekend with the Annual Opening Day at the Lake celebration. This five-day special event runs May 23 through May 27, with celebrations and festivities from the West Shore to Crystal Bay.
Free Lake Tahoe App Features Opening Day at the Lake Schedule/Info - details/download
"This is our official launch into the boating and summer season," said Tourism Director Andy Chapman of the North Lake Tahoe Resort Association. "The first days of summer bring with them a buzz of excitement and we are all ready to celebrate. People are eager to get outside and enjoy themselves. Whether it's on the water, on the beaches or taking part in other seasonal events, it's a great time of year to explore North Tahoe."
Opening Day at the Lake's jam-packed weekend includes a wide variety of events and activities:
Deck/patio opening celebrations at Sunnyside Resort, Jake's On The Lake, West Shore Café, Chambers Landing Bar & Restaurant and Bridgetender
West Shore Clean Up Day
Opening of Meeks Bay Resort & Marina
The opening of Tahoe City's Tahoe Gal (Mississippi paddlewheeler)
Tahoe Sailing Charters' opening weekend
Tahoe Tree Company annual Truck-Load Sale of perennials and shrubs.
Season openings and tours of the historical Vikingsholm Castle and Ehrman Mansion
Guided museum tours at the Tahoe Maritime Museum
Open house at the Rideout Community Center
Historic walking tours at Tahoe City's Gatekeeper's Museum
Mike Brown Seaplane Splash-In and Community BBQ at Obexer's General Store
North Lake Tahoe's paved bike trails are also open all the way from Tahoe City to Tahoma along the west shore, making for a great cycle-bound day trip.
For more information about Opening Day at the Lake, the Passport Program, and a complete event schedule, click here.